Hello lovely savers!
So in looking at my receipt yesterday at CVS I realized I had an extra buck I was close to earning! At CVS if you spend $10 in Revlon products,
Face, Eye or Lip (excludes clearance) you will get $4 extra buck. Limit 2
I have 61 cents to spend to get my extra buck! Shoot, I thought I need to get something cheap! I was going to try and find time to run there last night..but never did. Good thing too because today an email popped into my box from CVS. $3.00 off Revlon for one week only! YES! How did they know?!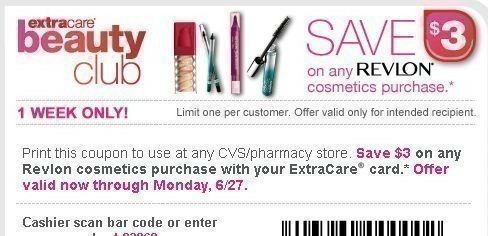 Copy and paste:
http://www.diigo.com/bookmark/http%3A%2F%2Foffer.cvs.com%2FCouponServerHA%2F40IOEMB%2FMBMPU%2F1WNNP%2F9M9DVQG%2FGE8O85%2F%26CPN%3D40396%26HACONTENT%3D466660558%26EXPIRATIONDATE%3D6%2F27%2F11%26EB%3DVRGH%26EE%3DNi8yNy8xMQ%3D%3D%26EH%3D65UB7FX?tab=people&uname=iheartcvs
disclaimer:
the coupons for specific items (except free gifts) have been working for anyone in the past. the $/$$ coupons ($5 off $30, etc.), free item, and % off coupons will beep "not for card" if they were not emailed to you. "CVS/pharmacy reserves the right to reject any coupon presented by parties outside of the original distribution list." some stores will still accept them, others will not.
Here is a deal break down that is a money maker!
Revlon Nail Polish at $4.99
Use $1/1 Revlon Nail Enamel, exp. 6/30/11 (SS 04/10/11)
and use $3/1 Revlon CVS Coupon
Pay $.99
Get $3.00 ECB (Limit 1)
$2.00 moneymaker after coupons and ECB
I hope that the link will work for you. Let me know what you get.
Happy Shopping!